Now Symantec Enterprise Firewall 6.5
Symantec Enterprise Firewall (formerly Raptor Firewall) protects enterprise assets and business transactions with one of the most secure, high-performance solution for ensuring safe connections with the Internet and between networks.

More Info.

---




CyberGuard KnightStar
It's an entirely new product category – the first high-end appliance in the firewall industry. You get the security, performance and reliability for which our software products are known.

More Info.

---




SonicWALL Internet Security Appliances

SonicWALL's family of Internet security appliances provide the first line of defense against Internet security threats. They include an ICSA-certified, stateful packet inspection firewall, IPSec VPN for remote access, IP address management features, and support for SonicWALL value-added security services.

More Info.

---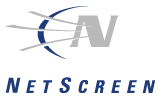 The NetScreen-100 is setting new benchmarks for firewall price/performance. It's patent pending system architecture and custom designed ASIC provides the most secure solution for critical Enterprise data.

More Info.

---