PGP Data Security suite provides the complete infrastructure and applications necessary for information integrity, data protection, support for non-repudiation and strong certificate-based, mutual authentication for customers who are serious about security.

More Info.

---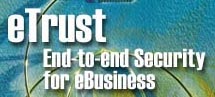 Access Control provides an essential eBusiness element - regulating access to critical business assets. In a world where business systems are all too accessible, eTrust Access Control provides policy-based control of who can access specific systems, what they can do within them, and when they are allowed access.

More Info.

---

eTrust Encryption
eTrust Encryption is a comprehensive, policy-driven data encryption solution that seamlessly safeguards your information against intrusion as it is transferred across any TCP/IP network. eTrust Encryption enables you to confidently deploy network-based applications without the risk of someone intercepting data and accessing sensitive information.

More Info.






RSA SecurID two-factor Authentication is based on something you know (a password or PIN), and something you have (an authenticator) -- providing a much more reliable level of user authentication than reusable passwords.

More Info.